Mini IRIS: A new simple and lightweight alternative
03 November 2023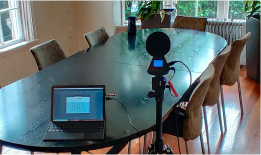 We are pleased to announce a new alternative hardware option compatible with the IRIS software which makes conducting measurements quick and easy. IRIS Mini uses consumer grade equipment resulting in a system that is cost-effective, portable, time saving, and easy to use.
IRIS mini uses wireless connectivity and does not require a mains connection thanks to a careful selection of battery powered components. This allows for a much more streamlined process and is perfect for smaller spaces such as meeting rooms, classrooms, studios, practice rooms, and even small auditoria.
Please have a look through our brochure for more information.
Older
I regard the acoustic designs of Marshall Day Acoustics to be amongst the finest and probably the most innovative in the world.

Dr Anders Gade, Technical University of Denmark

The operation and configuration of IRIS is effortless...

Sebastià V. Amengual Garí

Marshall Day Software is like having an acoustic laboratory in the palm of your hand.

Associate Professor Yan Xiang, Tsinghua University